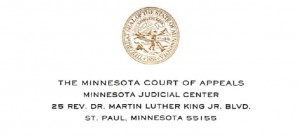 If one party in a family court matter disagrees with a ruling, he or she has the right to appeal a family court decision. 
In Minnesota, the district court judges and referees make final family court decisions.  Afterwards, the Minnesota Court of Appeals may review the decision.
Therefore, "appealing" is the formal process in which the Court of Appeals reviews the decision.
It's Hard to Appeal a Family Court Decision
Winning an appeal is difficult, primarily for two reasons:
First, the appeals process has stringent procedural requirements 
Second, the Court of Appeals typically shows great deference to the decisions of the District Court.
The Appeal Process
To start an appeal, a filing fee must be paid.  In addition, all of the documents necessary for the appeal must be properly served on the other party and filed with both the district court and the Court of Appeals.
These procedural requirements are far stricter than district court. Deficient documents get rejected if the deficiencies are not corrected. In fact, if a party doesn't provide proper documents by the deadlines, that party loses the right to the appeal.
After properly filing and serving, parties are typically required to attend appellate mediation. If that mediation fails to resolve the issue, the parties move to the appellate court.
For attorneys, going to appellate court involves two steps.  First, attorneys submit two types of documents.  They submit documents from the district court to provide the case record to the Court of Appeals. They also submit additional documents that argue the case. 
Second,  attorneys then argue before a three-panel group of appellate judges.  This is called "oral arguments". On the other hand, self-represented parties aren't permitted to argue before the Court of Appeals. 
After the above procedural steps are completed, the Court of Appeals has 90 days to provide the parties with their decision.  This does one of the following:
Affirm (uphold) the trial court's decision,

Reverse and remand (overrule and send the case back), or

Some combination of both.
Family Court Appeals in Closing
You may be significantly handicapped without the assistance of a family law attorney.  There are strict rules and timelines for each of the steps previously mentioned.  See the Rules of Appellate procedure for more information.
If you have more questions, please review the links to the left, head back to the MN Family Law Attorney home, or visit Majeski Law.  If you're interested in retaining an attorney, please feel free to email or call using the links in the upper right.
---
MN Family Law Attorney & Majeski Law, LLC are not endorsed by nor affiliated with the Minnesota Court of Appeals.